Good morning, party people.
Welcome to the 15th monthly installment of the PinterTest Kitchen.
Dave took our fancy camera to New Jersey.
So, well.  My pictures are not very fancy.
I tried a plethora of pins from my "Sweet Treats" board last month.
Some for Thanksgiving.
Some because I coped with the loss of my favorite four legged friend with chocolate.
And peanut butter.
And almond extract laced desserts.
Sue me.
I'm excited to review them.
My extra pounds are not in vain.
 Ready?
OK.
We spent Thanksgiving in the country this year.
At my sister-in-law's parents house.
It was beautiful.
I took more pictures of my kids with horses than desserts.
I blame pet loss grief.
You'll just have to trust when I say they were ALL winners.
Be sure to click over for each of the recipes.
And pretty pictures without horses.
Some I've tried before.
Like my most favorite
in all the world.
Modified to glazed cupcakes.
I use silicone baking cups.
Adjust bake time to 17 minutes, let cool in cups for about 20 minutes.
Remove from baking cups, place cupcakes on cooling rack (with baking sheet underneath to collect excess) and slowly pour glaze on top.  Let cool for an hour or so.
Place each glazed cupcake in a cute cupcake liner and you are good to go.
This is my favorite Pinterest recipe BY FAR.
I make them all the time.
I also whipped up some tried and true
A holiday classic.
And there were some new recipes.
Like
A HUGE hit.
Magical, I would say.
Easy.  From a box.  Taste like they took hours.
And my new favorite
Which is quickly surpassing the almond cake in frequency produced.
I'm obsessed with them.
I add a bit more cake flour and regular flour than recipe calls for to thicken them up.
And bake longer, too.
12 minutes is perfect.
And I didn't press down, mid-bake like recipe calls for.
I used my thumb to press down on the center before baking and they turned out perfect.
And chopped cherries are a delicious add-in.
Try them.
Today.
It's a life choice you will not regret.
After Thanksgiving was over, I dabbled in the
department.
For no good reason.
Well, or pet loss grief.
I think I may have over-baked the bars because they were a little dry.
And next time, I would sub shortening in the frosting for butter to make it less soft.
But not bad, I tell you.
Because it was Monday.
And oh my goodness, they are GOOD.
Double the recipe because the peanut butter mixture is a little difficult to work with.
I had to wash my hands after every three because the peanut butter would get angry and sticky.
I'm sure I washed away 1/3 of the mixture.
Next time I make them (like tomorrow), I may chill the mixture a bit before rolling into balls.
But, you guys?
They are crazy delicious.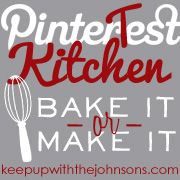 Your turn!
What have you and Pinterest been up to this month?
Grab a button in my sidebar and link up below.
I can't wait to hear.